As a small, local charity we must independently raise all the funds needed to continue providing vital services and support for Sheffield's learning disability community.
We couldn't do it without the generosity of people like you.
Your contribution, no matter how small, really will make a difference to the lives of adults and children with a learning disability or autism and their carers. Thank you.
Rock your socks for us this March!
March 21st is world Down's Syndrome Day, and to raise awareness of this and other learning disabilities, as well as raising vital funds, we are asking as many people as possible to rock their socks for us!
Find out more and see how
you can get involved here.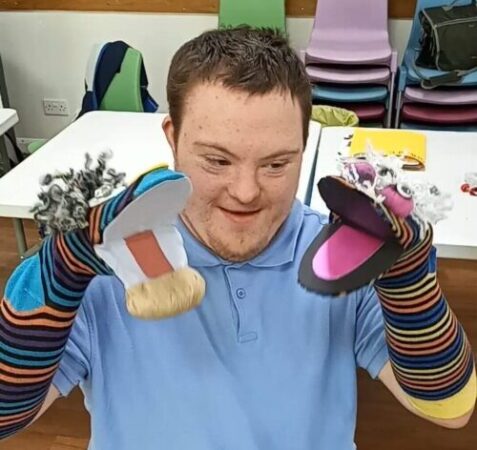 Fundraising or donating to Sheffield Mencap and Gateway will help people such as 6 year old twins Emily and Elouise, and Carol who attends the daytime Activity Learning Hub and our evening 'Gateway' social group.
Making a donation
You can make donations to us online using the Enthuse donation platform. You can set up a regular monthly donation of £5, £10, £15 or any amount you choose. Or, you can make a one-off donation of any amount you choose.
Did you know…
A one-off payment of £10 pays for one hour of support for an adult with learning disabilities.
A monthly donation of £15 pays for the resources on a youth project for 15 children with learning disabilities.
A one-off payment of £25 pays for two hours of advice and support for a carer to help with future planning.
If you would prefer to donate via a cheque, please make it payable to 'Sheffield Mencap Ltd'. Cheques and cash donations can be delivered to our reception at Norfolk Lodge. Please contact us before visiting to make sure that somebody will be available to receive your donation.
Fundraising for us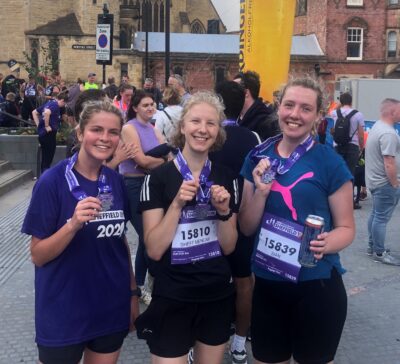 There are lots of ways that you can fundraise for us, and by doing so, help us to make lives better for people with learning disabilities.
If you're feeling adventurous and active, or are a thrill-seeker looking for your next big challenge; sponsored runs, hikes, skydives, bungee jumps… even daring haircuts, are brilliant ways to raise money!
Alternatively, you might prefer to host a bake-sale, quiz night or jumble sale: there are lots of events and gatherings you could organise to raise money and the best bit is, everyone gets to have a good time whilst fundraising.
Take a look at this list of 75 Fundraising Event Ideas from Eventbrite for some inspiration, and if you have any questions or would like support with fundraising, please contact us.
If you are fundraising for us, please use JustGiving to set up a page that is connected to our charity. You can do that here.
Charity partnerships & corporate support
We are always looking for businesses and organisations who share our values and would like to make a difference to a local independent charity. Every partnership is tailored to the business and what you would like to get out of the relationship, and we can offer volunteer days, training, and promotion as well as many other benefits. Please contact us to find out more.