The Sheffield Mencap and Gateway Carers Service supports unpaid/family carers of somebody with a learning disability or autism. Our friendly, caring team will make sure that they provide help, advice and practical support that is right for you and your family.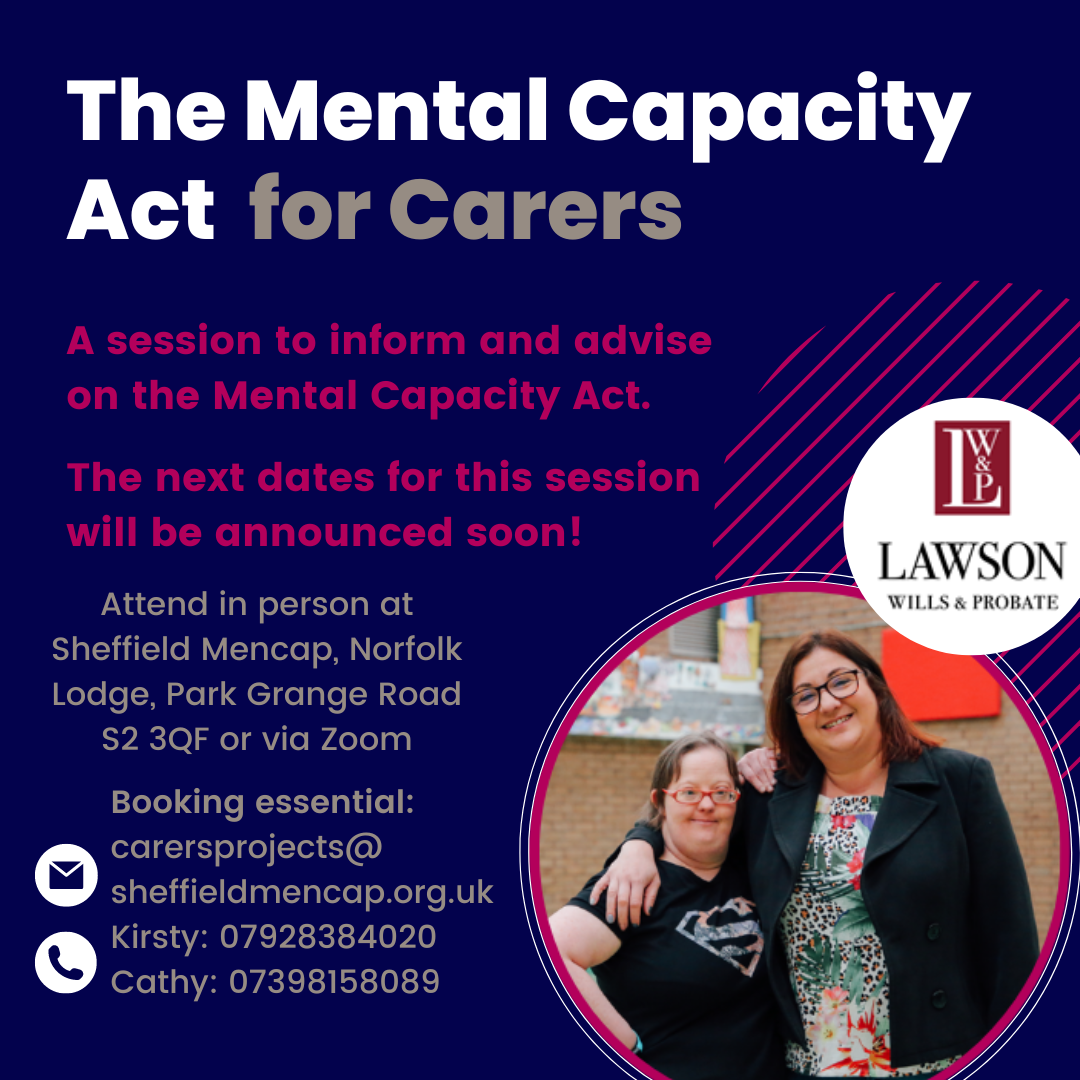 If you would like to find out more about any of our workshops or wish to book your place, please contact us.
We offer one-to-one support to carers of adults with a learning disability and/ or autism. To make a referral, or to refer yourself, please contact us.
Due to high-demand for this service, you may be placed on a waiting list for support. If you require immediate support or are in a crisis situation, please contact the Adult Social Care Team on 0114 273 4908.
We can provide support with:
Planning for the Future
Planning for the future can be daunting, not just practically but emotionally. We are here to support you with planning the future for the person you care for. This process can take months to years to implement, and we will make sure it is at the right pace for you. We offer a range of services and can help you access support from other health and care professionals.
Emergency Planning
These are plans that will let others know what to do if there is an emergency where the main carer(s) are unable to care for a period of time. Start by filling in this form: Emergency Plan Form
Have you completed your plan at home but are not sure what to do with it now? Contact us and we can support you to share this document with the right people and health care professionals.
Health Passports
These are plans that have been designed to collect information about the cared-for adult to share with health care professionals, whether attending appointments or during admission into hospital.
Have you completed your Health Passport form at home but are not sure what to do with it now? Contact us and we can support you to share this document with the right people.
Benefits and Forms
Although we are not able to advise you financially, we can support you with filling in forms and ensure you get the full range of benefits you are entitled to. These benefits can be for you as the carer, or the person you care for and may include Carer's Allowance, PIP and the Blue Badge Scheme.
Respite
We all need a break from time to time but finding the right sort of respite can be tricky. Respite needs vary and can depend on personal and financial circumstances. Regardless of the situation, we can support you to find the help you need.
Housing
It can be challenging to think about the future and where your loved one will live. There are many options and things to think about such as location, support and finances. Whether you just want to chat about your choices or already know what you want but are unsure how to action it, we are here to help.
Emotional Support and Advice
We have the knowledge and understanding to help you work through your issues and concerns. We can assist with planning and preparing for meetings with other agencies, and in some cases attend the meeting with you.
Life after Caring
Carers can spend many years caring and often don't think about what life will look like beyond this. As the carer, you are at the heart of everything we do and we will support you to transition with these changes.